Baroque Music Trio / trumpet, oboe and organ. Unique performances featuring acclaimed Czech musicians
BAROQUE MUSIC TRIO contains three prominent musicians that specialize in the performance of early music. Since the late 1990's, they have performed repertoire of the Baroque masters featuring trumpet, oboe, and organ. The Trio has performed on Czech Radio and has also recorded CDs. Their recordings have received outstanding reviews in music and media journals alike. Concert programs are carefully crafted to feature the music as well as the spaces they are performing in.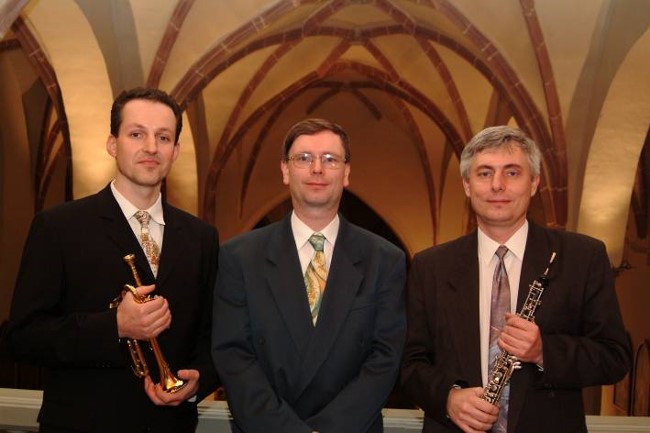 Pavel Hromádka is a sough-after solo and chamber trumpet player, who is currently Soloist with the Music Ensemble of the Castle Guard in Prague. He also performs many concerts with larger ensembles in the Czech Republic and abroad, including Slovakia, Poland, France, Belgium, Holland, Israel, Jordan, China, and the USA. Dušan Foltýn is Principal oboist in the Janáček Philharmonic Orchestra in Ostrava. Laureate of many international competitions, he has also sat as a juror in competitions. He holds the position of Associate Professor of oboe at the University of Ostrava, and has also taught at numerous masterclass. He has been featured as soloist on recordings with orchestra. Tomáš Thon is a concert organist, conservatory teacher, and publisher of early organ music. Solo organ recitals have taken place across much of Europe, Algeria, and in the United States. Recordings have been featured on Czech, Slovak, Polish, and French radio, as well as the BBC. As a solist, he works together with Schola Gregoriana Pragensis, a group led by David Eben.